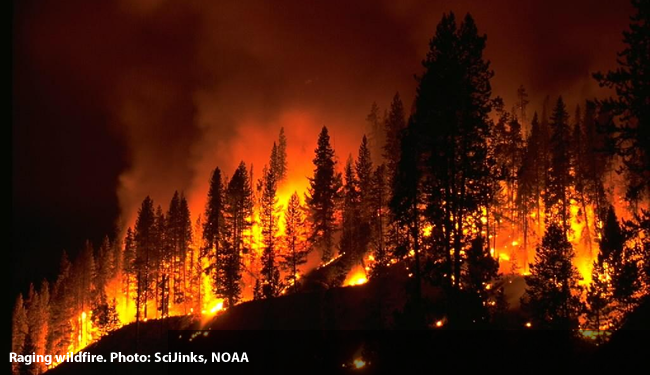 This page contains notices, articles, and links to maps and fire info sites in New Mexico and elsewhere. If a link doesn't work please let me know!
Wildland Fire and Smoke Information Sources
Silver City, NM. April 9, 2021
The Gila National Forest wants to help you become aware of the many sources of finding out where there are wildland fires and how to tell where smoke may be coming from. Living in the southwest means "when" there are wildland fires, not "if" there are wildland fires. Being informed helps us prepare for these events and being prepared is always a good idea!
These links are some of the places where the Gila National Forest and our partners at other forests, state and federal agencies, and non-governmental agencies can enter fire information for the public to look at.
Weather information/Red Flag Warnings

National Weather Service or your local news weather report
Windy.com – an excellent source for tracking wind direction

Fire Restrictions

In Arizona, the fire restriction information web tool can be found by visiting: wildlandfire.az.gov
In New Mexico, the fire restriction information web tool can be found by visiting: NMFireInfo.com

Wildfire Information – Inciweb is an excellent source of information including maps, photos, news releases.
Protect Your Health During Fires and on Smoky Days – NM Environmental Public Health Tracking
For information on the Gila National Forest, check out our website at https://www.fs.usda.gov/gila or join the conversation on Facebook and Twitter.
More…
Inciweb: Fire Information for large incidents nationwide, including wildfires in New Mexico is also available on https://inciweb.nwcg.gov/ (you can search for the incident name or New Mexico).
Due to high demand Inciweb may become unresponsive at times. If you get an error message, please try again in a few minutes. Thank you for your patience.
NMFireInfo E-mail Updates: Click on the +Follow tab in the lower right corner of NMFireInfo.com to sign up to get an e-mail when new NMFireInfo.com posts are added. You can Manage Your Subscription to choose to have updates delivered immediately, daily, or weekly or Unfollow when you no longer wish to receive updates.
NM State Forestry E-mail Updates: To subscribe to New Mexico State Forestry's Wildfire E-mail Alert Service, click here. Please note that the NM State Forestry Email Alert Service will only distribute information about wildfires on state or private land, not fires burning on federal land such as national forests.
Facebook: https://www.facebook.com/nmfireinfo
If you'd like to have Facebook specifically notify you of all our posts, navigate to our page, then click on "Liked," then click on "Following" and select "Notifications on for all posts" or "See First" in your News Feed.
Twitter: https://twitter.com/NMFireInfo | @NMFireInfo #NMFire & https://twitter.com/Inciweb | @Inciweb
Wildfires Near Me: Wildfires Near Me is a beta web application that focuses on keeping you informed about wildfires in your area. https://wildfiresnearme.wfmrda.com/
Smoke monitoring: Interagency Real Time Smoke Monitoring website has excellent information under the header "About Smoke Monitoring/Air Quality Index."
New Mexico Environmental Public Health Department also has excellent information to 'Protect your Health During Fires and on Smoky Days' at https://nmtracking.org/environment/air/FireAndSmoke.html.
Smoke gets in your eyes
by Lif Strand 07/11/21
Disclaimer: I'm not an eye doctor or in the eye business. But I can research and so I'm sharing the info I've gleaned from various websites about how to deal with smoke that irritates eyes. This is an important topic for me, given that right now, while I'm writing this, my eyes are burning and I bet I'm not the only one. Today most of North America is blanketed with smoke from the wildfires in the West.
I think we all know by now that lungs can be damaged from the small particles in smoke. Fortunately most people's eyes won't be permanently damaged by those particles (measured in microns, too small to see) but they can be irritated pretty seriously. What you experience is burning, redness, and tears. What you will no doubt want is for it to stop.
So my first piece of advice for you is to not get smoke in your eyes. There's a reason firefighters wear goggles, you know. You can wear them, too, if you have to be out in smoke.
But okay, if goggles are out, then stay indoors in air conditioning. Remember, air conditioners do more than cool the air, they filter it, too. Or use a HEPA air purifier. Make sure those filters are clean!
But okay, if goggles and air conditioning aren't possible, or if it's too late and your eyes are already irritated, try the following to help soothe them:
Artificial tears, a.k.a. eye drops. Flush those smoke particles out of your eyes — that's what your natural tears are supposed to be doing but they might not be enough. The extra moisture of eye drops will help.
Shut your eyes. If they aren't open, smoke can't irritate them. Please don't do this while you're operating heavy equipment.
Coolth. Keep the eye drops in your fridge, or keep cold compresses there for when you can lay down. The cool will really feel great.
Pray (or dance, or do whatever rituals might help). The West needs rain to put out those fires and to green things up so the forests will be more wildfire resistant.
Fire Managers encourage Homeowners & Landowners to create a Defensible Space
02/20/19
Fire season may seem far off while there are still patches of snow dotting the landscape around, but vegetation will quickly dry out in spring's warm temperatures, rapidly increasing the potential for wildfires. This is concerning to fire managers at New Mexico State Forestry, Cibola National Forest & National Grasslands and forests across New Mexico.
"Many communities around the state where homes are directly adjacent to forested or natural areas are vulnerable to wildfire. Property owners can take some simple steps to protect their homes and businesses from this risk." said Steve Hattenbach, Forest Supervisor.
"Taking the initiative to be well prepared for a wildfire will not only ensure the survivability of your home and property, but also the safety of your family, neighbors, and firefighters," said Donald Griego, State Forester. "Programs such as Firewise USATM ; Ready, Set, Go; and Living with Fire are excellent resources that can help New Mexicans understand the risk of wildfire and how to protect themselves."
This is the perfect time of year to begin creating a defensible space. This means creating a buffer zone or fire break around the home that is free of grass, shrubs, trees, and other flammable materials such as wood piles. Starving an approaching wildfire of fuel will help decrease the fire's intensity and improve the probability of a home surviving the burn.
Here are a few suggestions for creating a defensible space:
Remove dead or dying branches from trees and shrubs around the home.
Remove leaves and needles from the roof and gutters.
Trim tree branches that are hanging over the roof or chimney.
Place wood piles and other combustible materials at least 30 feet from the home.
Clear vegetation from around propane tanks.
Mow your lawn on a regular basis.
Consider planting fire-resistant vegetation around the home.
For more information, please visit https://www.nfpa.org/Public-Education/By-topic/Wildfire/Firewise-USA; http://www.emnrd.state.nm.us/SFD/; orhttps://www.fs.usda.gov/cibola
LINKS
Inciweb: Fire Information for large incidents nationwide
Facebook: NM fire info
Twitter: NM fire info @NMFireInfo #NMFire
NM Fire Info WordPress blog
Wildfires Near Me: Wildfires Near Me is a beta web application that focuses on keeping you informed about wildfires in your area. You'll need to set up an account.
Weather alerts: A free service providing severe weather email alerts that include current radar, weather conditions (including fire weather alerts), and forecast links.
NOAA air quality: Air quality, including smoke. Hover cursor over the table to change the map display.
Infrared Maps: On large fires infrared flights may be conducted daily as needed and when feasible. These maps are posted as available.
Interactive fire maps: Enterprise Geospatial Portal
Google Earth Wildland Fire Data: Must have the Google Earth program to open fire data layers on your computer.
USFS Wildland Fire Assessment System Maps: Daily maps combining the fire danger data for Canada and Mexico through the Canadian Wildfire Information System (CWFIS) and the fire danger from the US Wildland Fire Assessment System (WFAS).
New Mexico Inter-Agency Initial Attack Zones: Initial Attack Zones are boundaries that are agreed upon by all cooperating agencies and updated and maintained annually by the New Mexico BLM State Office Fire Program and GIS program with input from various Dispatch Zone boards (database download).
New Mexico State Forestry interactive fire history map: Wildfire history in the state of New Mexico and relevant fire management data.